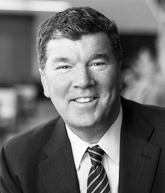 Keith Stewart, M.B., Ch.B.
Consultant in the Division of Hematology/Oncology, The Mayo Clinic
Dr. Keith Stewart is a Consultant in the Division of Hematology/Oncology at the Mayo Clinic. He is recognized as the Anna Maria Polak Professor of Cancer Research. He has served in several leadership roles at Mayo Clinic including the Carlson and Nelson Endowed Director of the Mayo Clinic Center for Individualized Medicine, the Dean for Research in Arizona, and as a member of the Arizona Executive Operations Team. He also serves as a non executive director or advisor on the external boards of a number of both commercial and non-profit organizations. Dr. Stewart's work is focused on translational genomics in multiple myeloma, including screening for genes that may sensitize myeloma cells to chemotherapy, discovery of small molecule inhibitors of myeloma targets, and leading clinical trials. He has authored over 300 peer-reviewed articles, is listed on 28 patents and has served as an associate editor at Blood and ASH Clinical News.
Dr. Stewart received his M.B. Ch.B. from Aberdeen University Medical School and completed hematology fellowships at the University of Toronto and the New England Medical Center. He holds an MBA from the University of Western Ontario.